NAME

: UACentre- Historical Contents Management Solution

CODE

: 16D3203102193

Category (UNSPSC)

: Computer & Information Technology Services

REGISTRATION DATE

: 2017-03-06
Historical, Archives, Contents, Management solution,
Product Description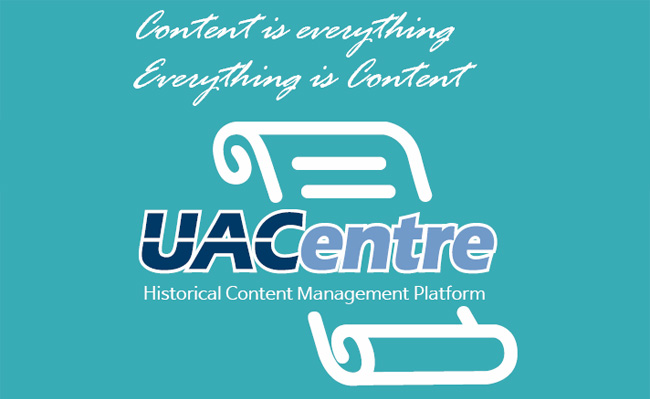 What is UACentre?
UACentre(Unified Archive Centre) of JC1 is a platform that is capable of managing historical contents efficiently as it consists of a process which supports collection/production-organization-preservation-usage of all types of records that occurs in companies and governmental institutions.

UACentre collects and preserves safely and indefinitely and supports quick utilization without being limited by location important historical contents such as photos, videos, voice recordings, scan images, electronic documents, drawings, etc.

UACentre complies with the International Standard Archival Description(ISAD) which takes into consideration international usage, is a system that looks forward to the future by utilizing the latest standard technology using open architecture and supports convenient operation of archival description and maximum utilization of recorded cultural heritage by establishing historical content management system which applies functions of prevention of forgery and falsification and verification of integrity.
Benefits
● Systematic and permanent maintenance of records of important historical contents
● Utilization of historical contents without being limited by location
● Prevention of disappearance and destruction of important historical contents
● Increase of historical content assets kept(approximately 100~200%)
● Standard archival description complying the ISAD
● Advertisement of historical contents with emphasis on traditionality and historicity
● Prevention of falsification for safe preservation of electronic records and maintenance of integrity
● Provision of open web service which can be utilized in various systems
Integrated management of important historical contents that are scattered such as photos, videos, voice recordings, scan images, electronic documents drawings, etc.
● Strengthening of security through strictly historical contents and management of user authority
● By establish a management process for historical contents, being able to utilize registration, preservation, searching and utilization of systematic and professional records.
UACentre safely preserves historical and cultural contents made by company.
UACentre increases the value of the contents by systematic management, permanent preservation and utilization of key historical contents retained by companies through efficient process.


HTML5 based web technologies
Collection/Registration


Function which obtains and registers as important assets of institutions by obtaining historical contents through donation, purchase, consignment, etc.
1. Collection plan management
2. Lead file management
3. Case file management
4. Collection subject management
5. Donation confirmation management
Search


For general users, we support easy and integrated search based on keywords of title, content, subject. For professionals, we support directory search based on category system such as level, type, subject, source, interval period, etc.
1. Integrated search
2. Detailed search
3. Categorized search
Statistics


Support of visualization of content information invarious subjects and levels
1. By form
2. By type categorization
3. By open classification
4. By availability of electronic form
5. By status
6. By history
7. By acquisition method
8. By location of original
Dashboard


Function which can monitor in real time changed information by supporting stateful interaction
1. Chart of number of registered cases by form
2. Chart of location of original
3. Chart of storage usage
4. Recently registered record
5. Popular search term ranking
6. Reading ranking
7. Popular record hit ranking
Special advantages
GOVERNANCE
- Integrated record management complying with the ISAD
- Basis for ownership and usage right over self-production, donation, rental, etc.
SPECIFICATION
- Arrange unlimited logical contexts separately from physical storage structure
- Support creation of multiple classification system and user defined metadata creation
- Function as permanently preserved archieve repository
SYSTEM
- Provision of web service for linking to websites and internal systems
- Purely web based platform which utilizes the latest standard technology of open architecture
-Support mobile library management based on RFID
Key Functions
●
Production of basis of ownership and use right based on various collection routes such as production, donation, purchase, consignment, etc.
●
Provision of tools which enables to expressly register meta information of historical cultural contents in various forms
●
Production of logical collection that can be expanded into categorization systems as desired by users
●
Provision of web service open API which can be linked simply with portals, internal operation system, etc.
●
Production of unit archives for long term storage and permanent preservation of historical contetns
●
Support of mobile library management based of RFID
●
Provision of integrated viewer which supports electronic documents, images and videos
●
Function of automatic production of image thumbnails and video streaming
●
Provision of registration function of records through linking to the Korean Library Information System Network(KOLIS-NET) API
Applicable Areas
Collection/Registration


- Historical Content Management System
- Audiovisual Records Management System
- Digital Archive System
- Historical Data Management System
- Photo Management System
- RFID Library Management System
Public Institutions


- Special Object Management System
- Audiovisual Records Management System
- Public Relations Data Management System
- Digital Archive System
- Cultural Heritage Archive System
- RFID Library Management System
Religious Institutions


- Historical Content Management System
- Historical Data Management System
- Digital Archive System
- Photo Management System
- Video Management System
- RFID Library Management System
Contact
Contact

| | |
| --- | --- |
| TEL | +82-02-3444-4660 |
| Fax | +82-02-3444-4659 |