NAME

: SG Security switch - SG2352XQ

CODE

: 16C290190118D

Category (UNSPSC)

: Networking

REGISTRATION DATE

: 2016-12-09
SG Security Switch,Network Switches,Access network security,Ethernet switch,switch configuration, L2 switch, L3 switch
Product Description
Security Switch Benefit
-. Detect/block malware user traffic automatically.(Detect/Drop)
-. Provides "business continuity" through "smart protection".
-. Email alert in case of hardware events and attack traffic
-. Dedicated security engine called MDS(Multi-Dimension Security)
-. Only malware traffic will be blocked by MDS engine ? No service impact due to port & IP block.
-. Make an internal network clean against hacker or attacker sitting inside the company.






Features
Security Engine
Dedicated Security Engine

Run 6 cubes before decision
No pattern and signature update
Guarantee wire-speed with Security Engine

Smart Protection
No block IP/Port

Detect/Block only malicious traffic
Patented Security Solution
Guarantee business continuity

End Point Security
Real-time detect/block malicious traffic

No operator involvement
Prevent trouble in advance
Auto Detect and Auto Protection

Real-time blocking cable loop
Business continuity with Self Loop Detect function

Prevent network downtime due to the cable-loop
Provide the real-time alarm ? visible & audible
Fast resolution once happened

Blocking ARP Spoofing attack
Detect/Block ARP Spoofing attack under dynamic & static IP environment

Prevent the company confidential information against hacker/attacker
Prevent the personal user information against hacker/attacker
Prevent 'Tapping' under IPT & UC environment

Web-Alert
POP-UP Alert for user notification

Warning user
Audible & Visible alarm through VNM

Security Convergence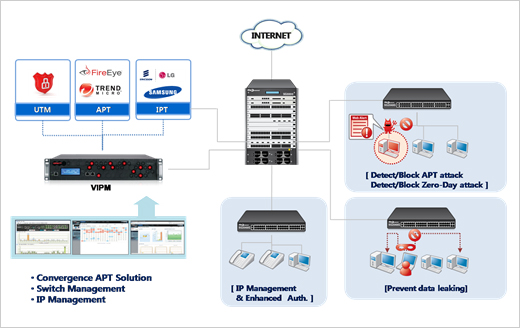 [ SG2352XQ ]
Carrier grade
Hot Swap
SDN Ready (Openflow/netconf)

Specification

Hardware

MAC Capacity(k)

288(share)

Power Supply

1+1(modular)

Interface

10/100 Base-TX

N/A

10/100/1000 Base-T

N/A

1000 Base-X

48(dual-mode)

10G
48
40G
4

52

Materials

Width(mm)

445

Height(mm)

44

Depth(mm)

402.5
Contact
Contact

| | |
| --- | --- |
| TEL | +82- |
| Fax | +82-070-4015-4111 |